I am so pleased to say that my Mooroolbark Album has won both and ARIA and an AIR award  for best jazz album 2015 and is nominated for the AGE VICTORIA AWARD. Pembroke Road!
Its a great honor for me.. and i have been slugging away this music thing for many decades. I was guided by an Owl to follow a path and it seems the Owl was right?  Owls are generally pretty wise … and so…I also named my band ASIO (AUSTRALIAN SYMBIOTIC IMPROVISERS ORBIT)  which is also an acronym for  the true genus of Owl.
But Mooroolbark was a joyous trip for me as a child. I was so fortunate to be around all that nature and all those brilliant creative left leaning political hippies. As Michael Jordan said to me recently "it coulda been ALOT worse"…Man… we would explore all sorts of bugs and caterpillars at lunchtime whilst in school. We would hunt frogs and we would just mess around in the woods all day. We also would listen to Pinetop Smith and Mary Lou Williams. Bud Powell and Carole King, Muddy Waters and Peter Sellers. Mum had all these Modigliani prints and there were walls full of books. Thousands of books. Deep books that I still couldn't read..but would browse through occasionally.. thanks Dad!  Joss Moorhouse would come by the house and she could really play some hard classical music at a young age.  That was culture and was magical for me. And Len Barnard would sometimes be there but he was like an icon in Mooroolbark and once when I played him my complete transcription of Miles Davis'  solo on"four".. he just kind of shrugged and walked off. I am grateful for that… it kept me striving and i continue to have a real need to strive and a respect for great musicians and a humility around them … and it doesn't matter what age they are. If they have lifted the veil on something I don't understand I will ask them to show me and they could be 20 years younger than me. Because, music is ageless…kids can show masters and masters can show kids and there is no order to it. Jaco was always a freak of music and could change you with his musical outlook. Have a listen to "Teen Town again.  Then Gary Bartz has been around the block a few times and I get to hear him and comp behind him and that experience has really changed me and it is a great contributor to my Mooroolbark Album and all my music since meeting him… Gary has alot of magic.
Monty Alexander told me when I asked him for a lesson that the very best lesson I can have is playing with Bartz. And I am an avid student until this day. Billy Harper is another one who really helped me and changed me. I owe alot to Billy. He is a music preacher really…When I first played with him in Australia with Malcolm Pinson on drums..it was like my DNA awoke to some other strands. Billy wrote "The Cry Of Hunger" for a reason and he always reminds me to stay hungry…To keep the hunger and fire in your music ..to reach for that. That is a church thing.. Billy is a church musician…
. ..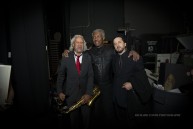 The music on Mooroolbark is a culmination of alot of different musical worlds I have checked out. It was easy to record with the players on the record… they really learned it before hand and it was a breeze. The Studio at ABC is kind of nice and we had a great engineer and people all working together and making things conducive. Johnathan Zwartz is my kind of MD and I run stuff by him before I settle on it.. sometimes I neglect his advice.. but his advice remains in the music, even if I don't use it. Julien Wilson impressed me so much with the ballads album we did..he didnt even have an Ooobly -doobly stopper on when he played on that record. I was so happy to have him play my stuff and he was a good sport when I asked him to play like Wayne Shorted on "The Barbara Song" on every tune! Steve Magnussen has it all, he just kind of takes the footage and when you wtach the rushes you say.. wow he captured THAT, I didn't even see it. He is also an excellent reader. Bloody hell. Simon added some wild time…I mean, who plays like that? Beautiful. I Added Mino Cinelu after the session, he really likededed the music and otherwise, i doubt whether he would have done it. He added some secret society flavor and I am super grateful to him. Thanks also to Shannox Barnett who really plays great and also have to mention the live tracks with Hamish and Jonathan. We really have a great time playing and I felt like the Apple Tree version on the record is really the way I needed to represent this song. Love it and love that trio. Cant thank teh great Hiro Sanada in New York enough! Hiro has mixed most of my records and he adds the electricity and fire for me… he is a nutter with huge ears, that is what you need.
Its a great thing to have won these awards…its a long and winding road this music life and so many people just check out or retreat for their own sanity… I fully understand that… because its like the musicians are the last to get benefits from all their years of striving and searching for beuaty…and what with technology and its extreme plundering… musicians themselves keep getting pushing further back in the line of help and financial health. Musicians can be suckers because they are just blinded by beauty and capitalists around them encourage them to keep their blinders on while they exploit the daylights out of them. So these awards help me to come to terms with all the rough stuff I have seen go down over some 30 years of being a professional musician. I want to thank each and every musician for striving and composing and improvising and absorbing and learning and teaching and dealing .. because without musicians & friends…. there is more darkness in the world than ever before and my music is a result of so many and i would like to try and list them:
Billy Harper
Gary Bartz
Josh Roseman
Conlon Nancarrow
Breastfist
Bill Campbell
Chris Apra-hams
Pip McAll
Llyod Swanton
Tony Buck
Sia Furler
Jon Maron
Mike Nock
Kurt Rosenwinkel
Jay Rodriguez
Jonathan Zwartz
Hamish Stuart
Michael Watt
Ben Gerstein
Fred Welsey & the JBs
Dwayne Dolphin
Steve Leeder
John McAll
Steve Magnussen
Julien Wilson
Aydin Essen
Reggie Ward
James King
Greg Bandy
Aaron Parks
Larry Goldings
Paul Grabowsky
Tony Gould
Scott Tinkler
Phil Slater
Simon Barker
Hamish Stuart
Billy Kilson
Obed Calvaire
Drew Gress
Daniel Merriweather
Tim Berne
Keith Jarrett
Badal Roy
Matt Darriau
Rufus Cappadocia
Mulgrew Miller
The Clarke Sisters
David Rex
Phil Rex
Danny Fisher
Vince Jones
Russell Smith
Ruby Carter
(I am going to name every fricken influence but it might take a few years.. I ail just keep adding here..no one will prob ever read! yay)