TRIO THIS:
Barney McAll – Piano       George Schuller – Drums      Matt Pavolka – Bass 
The Jazz Piano Trio has long been the preferred format for many of our greatest pianists…first established by the likes of Earl Hines, Teddy Wilson, Bud Powell, Thelonious Monk, Oscar Peterson, Wynton Kelly, Red Garland, Bill Evans and continued to this day by such sonic mavericks as Herbie Hancock, Keith Jarrett, Hank Jones, Cecil Taylor, and Brad Melhdau, among many others. Co-leaders Barney McAll & George Schuller follow this rich tradition only as a launching pad for new ideas and pathways yet undiscovered. Joined by bassist Matt Pavolka, Trio This will keep one eye planted on history while the other searches for the nearest exit.
GM Recordings is proud to announce an exciting new recording from Trio This entitled That. This is a collaborative effort between Schuller and McAll, their first trio recording featuring originals from both composers as well as thoughtful re-examinations of works by Wayne Shorter, Henry Mancini, Les McCann as well as a rare English hymn by Geoffrey Shaw.
"McAll is partial to unleashing surprises himself, whether they be radical dynamic shifts – such as suddenly reducing a solo to the merest trickle of notes against thrumming bass and whispered cymbal chatter – or just finding bewitchingly unexpected turns to take in developing a melody. Masterful."
— The Sydney Morning Herald
"Schuller is a drummer who starts at the boundaries and then extends them. He can take the music through difficult and surprising changes with astonishing economy."
— All About Jazz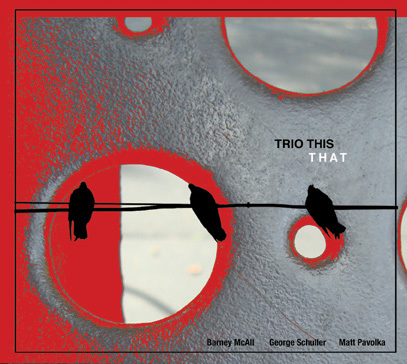 TRIO THIS : "THAT" CD
1. "Pug Nose"
(Wayne Shorter) 6:53
2. "Where It Stops, Nobody Knows"
(Barney McAll) 4:40
3. "Flashback"
(Barney McAll) 6:13
4. "Langham"
(Geoffrey Shaw) 6:16
5. "Lava Lamp"
(George Schuller) 7:15
6. "Duke"
(Barney McAll) 4:55
7. "Nice Exit"
(George Schuller) 6:39
8. "Dreamsville"
(Mancini/Livingston/Evans) 6:05
9. "Get That Soul"
(Les McCann) 6:35
10. "Ten Days of Silence"
(Barney McAll) 6:32