"For Halloween Sandy came dressed as the future"  -Michael Moore
Last night was Halloween and I played a gig in Manhattan, which I had to drive to because there are no subways or… electricity for that matter for the lower half of NYC. It was the most bizarre and eerie thing to see the whole of the Manhattan skyline in darkness below 34th St.
When I finally got to 42nd St it was a gridlock holiday!  No one was moving for the next few hours. Then I realized I had no gas either !… Miraculously I found a park on 42nd street, then walked 15 blocks to the gig. There were people clustered around power sources everywhere urgently charging their phones (lifelines)…
I played the gig with a clown wig on for safety reasons and after the gig I went back to the car and drove to nearest gas station.
Upon arriving there were way too many cars in the station and no one knew exactly what was going on. Mayhem. I queried the cashier who spoke no English but eventually worked out that there was no gas left anywhere on the island.
So now I'm in Manhattan and I have to get to Brooklyn on an empty tank.
I decide to try and risk it. I drive down the west side highway. There are no traffic lights and many cars that are just driving into the void, winging it. So creepy to be on the west side highway and its just pitch black. No traffic lights, nuthin. I decide it's too scary and take a left on 16th street. Bad move!  There is so much water there that half my car goes through a huge deep pool. 
I am rooted on the pitch-black back streets with an empty signal. Yay. 
And just for that zombie apocalyptic "Escape from New York"  touch, the only people who are walking around in the shadows are Halloween freaks… so occasionally I get a glimpse of some zombie or clown (and I hate clowns!). It's like a real life ghost train. Do not leave your carriage children.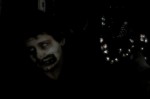 It then dawned on me that our civilization might be drawing nearer to a kind of 'Mad Max' scenario for real. Is this naive and simplistic? Why are so few media speaking about the global warming ramifications of Sandy?
Out there in the dark and cold I really started to get a sense of the complete terror, sadness and loss that all those people must be feeling who have been so battered about by this Frakenstorm (that title got the sack quick smart didnt it?)  Houses were floating down route i-35!  Not to mention photo albums, trophies, passports, changing tables, Halloween costumes, pet mice, a lifes work, AA big books, medications, decades of diary entries, and the list goes on. ..  The Jersey shore is just decimated. Long Island is completely without power, Queens, the Rockaways, just horror.
Jane's Carousel (pic above) really captures the sad mystery of it all  for me…. having to venture into the belly of the beast was the only way I could get a tiny and visceral glimpse into just how devastating Sandy has been. I feel grateful for my cushy life.
………………………………………I remembered that I had a teapot worth of Gas in a container in the back of the car so i sputtered back to Brooklyn.
FRANKENSTORM- HOW TO HELP:
– Offer What You Can: Locals to a disaster who have power, warm showers, etc. can offer neighbors and friends a place to warm up, take a hot shower, and charge devices. If you have a warm place to sleep-make room for company.
-Donate via Text Message: Simply text 90999 on your phone to donate $10 to the American Red Cross which helps fund relief efforts to all natural disasters.
-Volunteer: Whether you live locally or not you can volunteer your time to help disaster victims by either traveling to physically help clean up damage, spread awareness, and collect donations.
– Call your local shelters to see what donations they need. If you don't have material items to give, offer other services like babysitting or doing laundry.
Check online. Social media has become a fantastic resource for connecting people in need with people who want to help.